<< Back to main
'Trick or Treat'
Posted 4/11/2012 2:47pm by Jenna Untiedt.
Normally, the idiom "trick or treat" is a fall phrase occuring near the end of October. However, my feeling is that for 2012 it fits appropriately into our weather phenomena that we are currently experiencing. We received the treat in March and early April with 30 some days without freezing temperatures. Recently the trick has arrived with cruel and damaging temperatures arriving, featuring temperatures as low as 20 degrees the morning of April 10. This weather has sent us scrambling to protect all that we could protect from frost and watching other crops succumb to the cold. I will elaborate:
In our tunnels, we have taken some risk with early tomatoes, onions, peas and other crops. Using copious amounts of labor and thousands of square feet of frost protecting cloth (sometimes two layers) we have so far been able to save most of what we have planted. However, our outside plantings have not faired as well. Among the crops taking a beating is our asparagus which seems to be growing a few inches everyday, but freezing off at night. The problem here is that an asparagus crown, which is located deep below the soil surface, has many buds, each capable of generating an asparagus spear for us to harvest and enjoy. The sad part being that we are using up these buds with our heavy freezes thus diminishing the potential yield significantly on a per season basis. Sad, but true, we have lost a relatively significant percentage of our crop to these freezes. Thankfully we do have quite a few acres so our CSA customers and stands should have an adequate supply.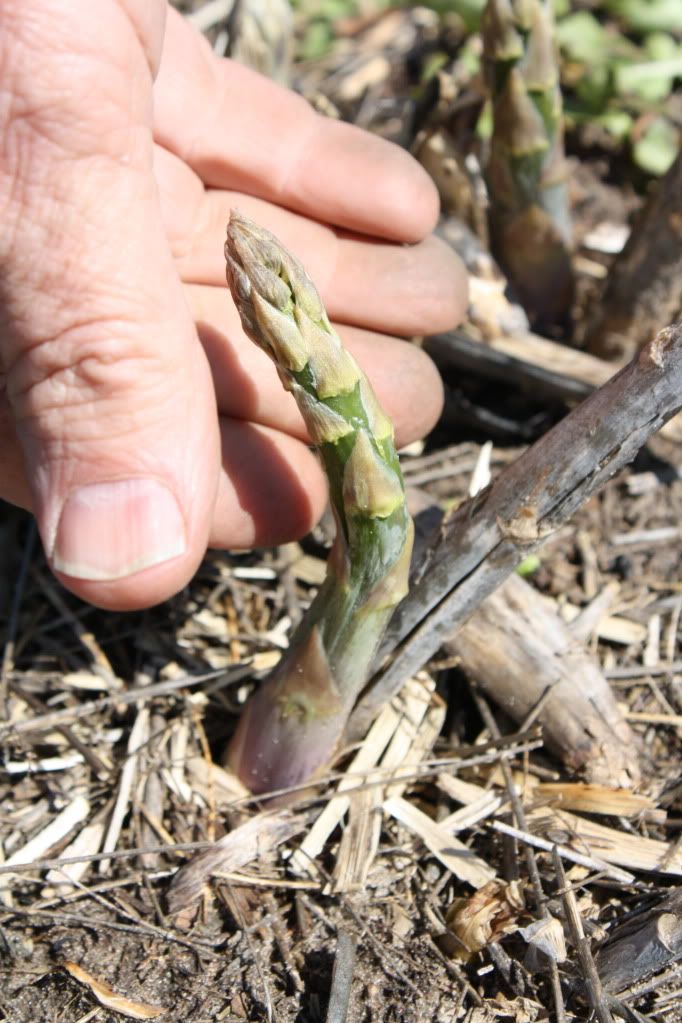 Also of concern are our apple blossoms which have been subjected to some very cold night time temperatures. We really don't know the amount of damage yet, but damage there is.
Our early sweet corn has also been frozen off a couple of times, but thankfully the growing point remains comfortably below ground level. The only problem is that the stress contributes to lower vigor and a less than stellar crop.
Since this spring is so a-typical, we really won't know the full effects for a couple of months. Oh, how much we have to learn!
The flowers in the greenhouses seem to enjoy the cool nights, protected by propane furnaces, and are really flourishing with the bright sunny days, protected in their homes from the cold winds.
In the fields we continue our regime of soil preparations for seeding, being very cautious not to overwork the already dry soils. We will be ready to begin corn planting by the 20th of April and hopefully will have had some rain by them. We continue to seed grasses and alfalfa in erosion prone areas hoping to avoid any "gully creating" deluges of rain. A few April showers would be just fine.
On behalf of Megan and the crew here on the farm we want to urge you all to consider signing up for our CSA program and wish to extend our sincere thank you to those of you that have again joined the program!
Until Next Week,
Farmer Jerry